Konnichiwa minna san. I would like to introduce myself:
I'm Yumi from germany.
The reason why I love Maotsujun is of course because of HYD. I just finished watching the dorama and am now searching for Videos, Pictures and STORY's of the cutest couple I've ever seen.
Originally I was only a Matsumoto Jun Fan, but when I saw the Dorama I thought something childish like "If I can't be the one, only she can" haha sounds kinda stupid... so I was always feeling with Tsukushi when she broke up with Domyouji or she was betrayed by someone... Ah this dorama was really superb.
I think Iam alot like the character Makino Tsukushi... thats another reason why I think Inoue acted her out perfectly and naturaly.
So I hope that everyone here will be taking goog care of me from now on. And that we can share opionions and interesting infos.
I hope to see many videos of those too because I only saw them in Doramas till now ^^
For you to know who I'm and how I look like. Here is a picture from 2 weeks ago when I went on a MSC cruise :)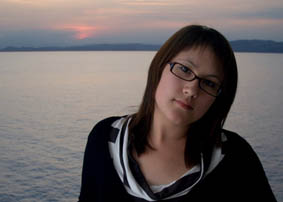 Take care everyone
Ja ne